A stop limit order rests in the same way as a stop order. However, once triggered, rather than execute at the next available price it converts to a limit order at a pre-agreed limit price. From that point on, the order is treated as a limit order. This type of order gives the client some protection from a bad fill in a gapping or illiquid market. Trailing stop limit orders are not available.
Please note that not all exchanges and instruments support stop limit orders.
Here is an example of a stop limit order for Facebook CFD long position, opened at 142.550.
Last traded price 147.480 / 147.500.
Stop Loss level - 140.00
Stop Limit level - 135.00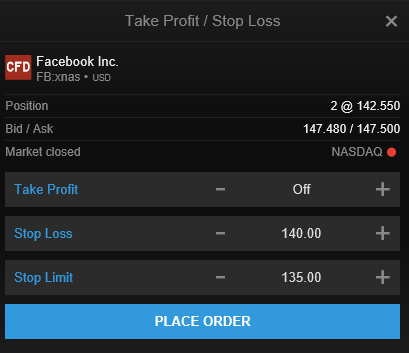 If order gets triggered at 140.00, it would be executed within 140.00 - 135.00 range (stop limit level) but not worse than 135.00.
In other words, if market gaps below 135.00, the order would not be executed.
The risk in latest scenario is the following:
If market drops even more below 135.00 level and do not recover, client can lose more, in comparison to having normal stop loss order, where client at least get a fill and close his loosing position.