It is possible to monitor FX Exposures in SaxoTraderPRO.
FX Exposures is a module which streams your single currency exposures.
To launch the module in SaxoTraderPRO click ADD MODULE > FX Exposures.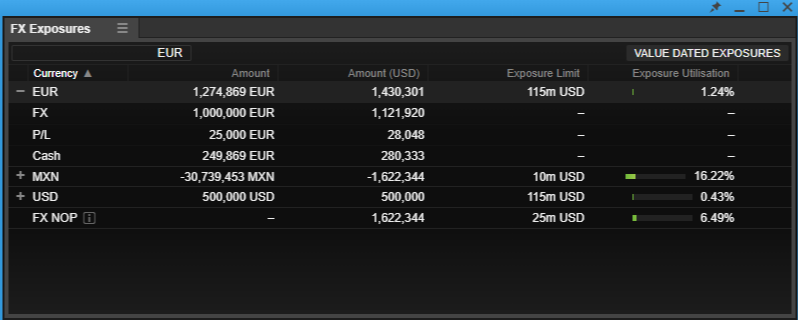 Exposure item
Components
FX

FX net positions in the following instruments:

FX Spot
FX Forward
FX Vanilla Option (delta-weighted)

P/L

Includes:

FX Spot and FX Forward Open P/L
FX Spot and FX Forward Closed P/L
Margin products Open P/L

Cash

Includes:

Cash balance
Transactions not booked
FX Option premium value

FX NOP
The NOP Value (Net Open Position Value) is the sum of all short single currency exposures

Single currency exposures are shown in Currency, Account Currency and Currency (USD).
The module also displays the following exposure limit and exposure utilization data:
Exposure Limit: The configured exposure limit in the currency
Exposure Utilization: The exposure in each currency divided by the exposure limit, in %
The data in the module is exportable in Excel, just right-click > Export.

Value Dated FX Exposures
FX Exposures are also available in a value dated layout. Launch Value Dated Exposures from module FX Exposures.