The TradingView integration
All direct private clients of Saxo Markets can access their accounts directly through the TradingView platform. TradingView is a leading charting tool and social trading platform, and you can now log in with your Saxo Markets account to get the best of both worlds: TradingView's excellent tools and Saxo Markets' world-class execution, competitive pricing, and customer care.
What you need to know
To get started on this platform, please consider the following:
A funded account with Saxo Markets is required. Unfunded accounts do not have access to 3rd-party apps like TradingView. To open an account, see here.
We currently offer access to a wide selection of Forex, CFDs and Stocks on the TradingView platform.
In order to connect to a broker from TradingView, you need to create a (free) account on TradingView first. See the TradingView home page and click "Join for Free".
You trade against the same conditions and costs on TradingView as you would on Saxo Markets' own platforms.
We do not currently support Demo accounts on TradingView. The platform already supports "Paper Trading" functionality, which is basically the same thing.
You connect to Saxo Markets with the same credentials you use on our own platforms - no hassle with accounts!
You can view all your positions in TradingView, including instruments that are not currently supported. You will however not be able to trade or modify them from within the platform.
How do I connect to my Saxo Markets account?
Provided you have both an account with Saxo Markets and TradingView, getting started involves the following steps:
Navigate to www.tradingview.com/chart/.
At the bottom, find the Trading Panel.
Click the Saxo Markets logo. If you are not logged in, TradingView will prompt you first.
After you log into your TradingView account, accept the disclaimer and click Continue.
The Saxo Markets login panel appears. Use your Saxo Markets credentials to connect (this is the same login you use on Saxo Markets' platforms).
Accept any disclaimers if required.
After you click the login button, the panel closes. After a short while, your account is loaded in the Trading Panel. You are now connected and ready to trade!
TradingView created a helpful step-by-step guide as well on their support pages.
And here's a short video showing the above steps:
How do I trade Saxo Markets instruments through TradingView?
Step 1: Make sure you select a Saxo Markets instrument
TradingView supports many different instruments and brokers. If you are already connected to your Saxo Markets account, the search box in the top left of the TradingView window should automatically filter for Saxo Markets instruments (see the picture below). You cannot trade instruments offered by other brokers through Saxo Markets, so make sure you pick the right instrument!

If you are not connected to your Saxo Markets account, you can always find our instruments on this platform by selecting them from the search results manually, or by filtering for Saxo under All Exchanges: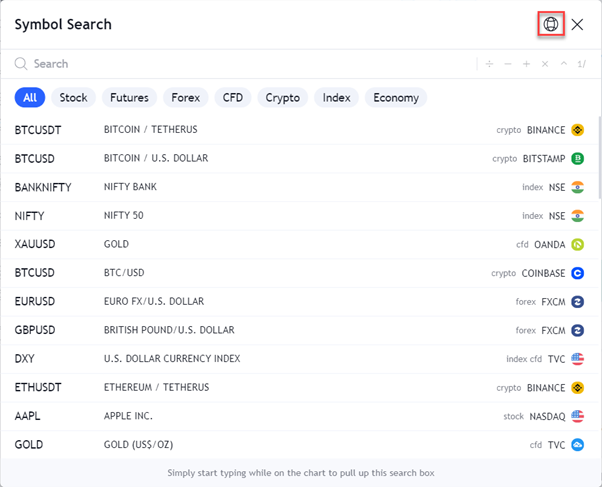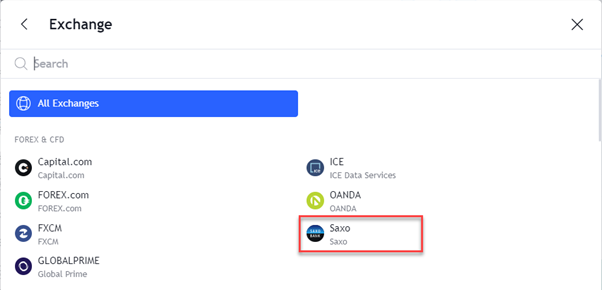 Step 2: Select the account for this order
After you select the instrument you intend to trade, make sure you pick the account you want to trade on from the account selection drop-down before you open the trade ticket. You cannot change the account after you open the trade ticket (like you would on our platforms).

Step 3: Open the trade ticket and send your order
You can either click the Bid/Ask panel directly or open the Order Panel by clicking the button on the side bar: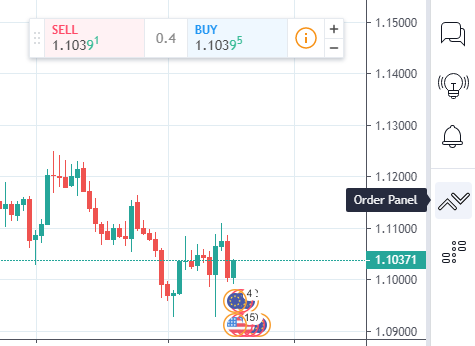 Configure your order on the trade ticket that appears and click the button at the bottom to send your order to Saxo. We support Market, Limit, Stop, and Stop Limit orders with Day Order, Good-Til-Cancel, and Good-Til-Date durations on TradingView.
You can toggle between the Stock and CFD instruments directly on the trade ticket.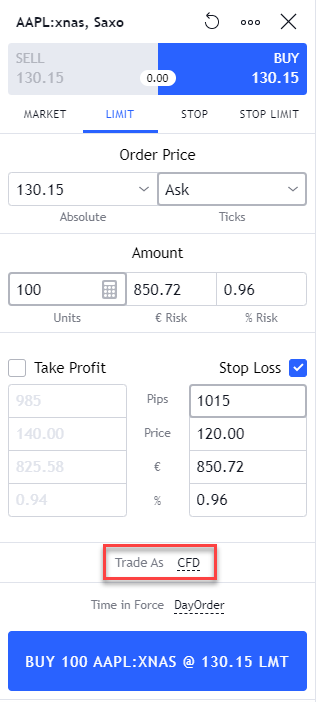 After you send the order, order confirmations appear in the bottom left of the TradingView window (one for each order in this case). Trade messages are shown in a similar manner.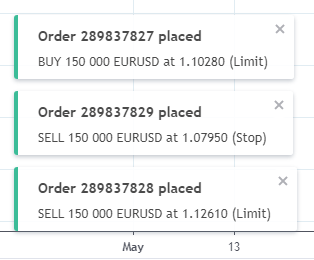 That's it!
You are now trading directly on your Saxo account from within TradingView. For questions about TradingView's tools and features, reach out to their support. If you have questions about your account, Saxo trading, or other Saxo-related issues, you can contact us through the platform.
FAQ
What price is used in the TradingView chart when trading FX? What quote do I get in the Buy/Sell Panel?
When trading FX the price that 'draws' the charts on the TradingView platform is the mid-price and corresponds to the mid-price used on Saxo Markets' own platforms (if you switch the chart price from the default to mid).
The Buy/Sell Panel (or 'Quote Box') shows your personal quote - the same one you would get if you trade on Saxo Markets' own platforms.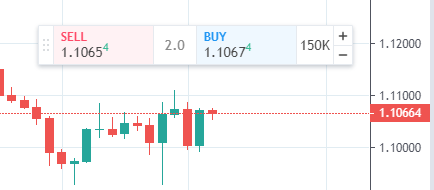 Which exchanges do you support on TradingView?
You can trade the most popular names on New York Stock Exchange, NASDAQ, AMEX, ARCA, Hong Kong Exchanges, London Stock Exchange, NASDAQ OMX Copenhagen, Singapore Exchanges, Tokyo Stock Exchange and Deutsche Börse (XETRA) – both as stock and CFD.
Do I get live/undelayed prices in TradingView?
FX instruments on TradingView are always live, whereas prices on Stocks and CFD will depend on your subscription(s). Bear in mind however that a basic account with TradingView does not get more than 1 price update per second. This is fine for most intents and purposes.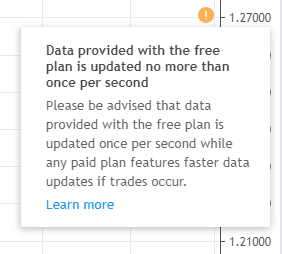 The price in the chart on TradingView crossed my FX stop order, why did it not trigger?
This situation can occur when the bid/ask is very close to your resting order. Because the chart in TradingView shows the mid-price, it can cross your order price without triggering because Saxo Markets' FX stop orders are triggered on the opposite of the spread in order to protect clients in case of spreads widening without the market actually moving.
Can I log in through TradingView and a Saxo Markets platform at the same time?
Yes, this is possible. Actually, we advise our clients to use 3rd-party apps to monitor their accounts through any of the Saxo Markets platforms if they want to ensure the external platform they are using meets their expectations.