You can transfer Stocks/Bonds/Mutual Funds ("Securities") to and from Saxo Markets.
Go to the main menu > Deposits and transfer > Portfolio transfer
To complete the transfer request you need to provide the following information:
Which Saxo account you intend to transfer the securities to/from.
Whether you want to transfer to or from Saxo Markets.
The broker details of the sending/receiving bank/broker.
Which shares you intend to transfer (find them by searching in the search field).
The quantity of securities and the price to be shown in the platform.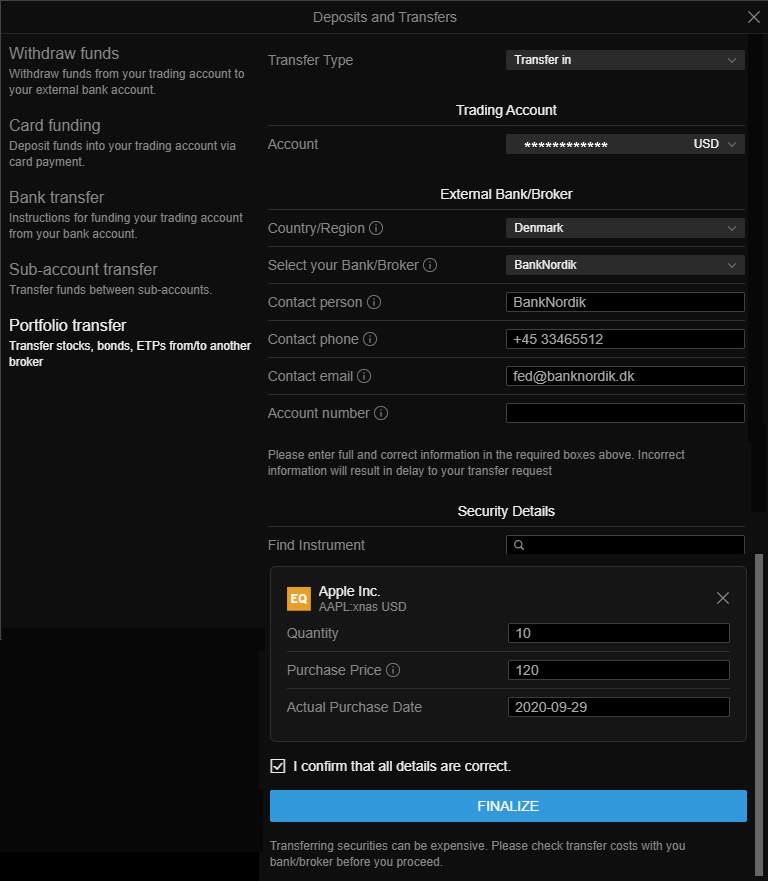 Please be aware:
It is only possible to transfer Securities that are registered in the same name as the Saxo Markets account holder.
Transferring Securities into Saxo Markets is subject to Saxo Markets offering the specific Security on its platform(s).
Your bank or broker may ask you to place a similar request with them in order to accept a security transfer request from Saxo Markets.
Securities transfer costs:
Saxo Markets does not charge fees for incoming Securities transfers. For outgoing Securities transfers, Saxo Markets charges fees based on this fee schedule.
How long does it take to transfer my securities?
Once you have requested the Security transfer request online, please make sure to give authorisation to your bank or broker and provide them with all necessary documents for the transfer, as the time to complete the process will vary depending on how quickly the counterpart responds and complies with Saxo's request.
For transfers to Saxo Markets, we strongly recommend that you print, sign and send a scanned copy of the online request you made with Saxo Markets to the delivering bank or broker.