You can see the minimum trade amount/size by opening the Trading Conditions for the instrument.
From the Trade Ticket:
Select the relevant instrument and click on the (i) icon.

Switch to Instrument and check the Min. trade amount value.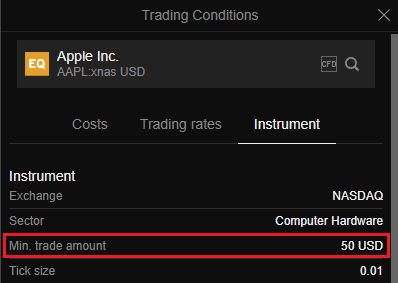 In the case that there are both minimum trade size and trade amount, your order needs to reach the higher number. For example, the product is 200 HKD/share, min.trade size is 1 share and min. trade amount is 500 HKD. You cannot place an order to buy 1 share. You need to at least buy 3 shares (600 HKD) to reach the 500 HKD minimum requirement.