How can I deposit money into my SaxoWealthCare account?
You can deposit money into your SaxoWealthCare account by:
Sending money from your local bank to your SaxoWealthCare account, via FAST, MEPS, GIRO or TT using the bank details and instructions found within the funding module in the platform. Please select your relevant SaxoWealthCare account and use the banking details displayed specifically for this account.
Do a sub-account transfer from one of your trading accounts if you have one. How do I transfer funds between sub-accounts?
Note: The instructions for funding a Saxo account are different from funding a SaxoWealthCare account. Please use the details displayed in the funding module for the specific account you wish to fund.
How do I set up recurring deposits into my SaxoWealthCare account?
Similar to the above, you can also set up a recurring deposit into your SaxoWealthCare account via your personal banking account. All you need to do is to set up an automated monthly transfer to the bank account number shown for your SaxoWealthCare account. The bank account number for your SaxoWealthCare account with instructions can be found via the funding module which you can view via your dashboard. You will be able to see a link to the funding module under your current account value.
How can I withdraw money from my SaxoWealthCare account?
There is no minimum holding period with SaxoWealthCare. Therefore, you are free to withdraw whenever you choose from your investment plan. To withdraw money from your SaxoWealthCare account, please go to the funding module which you can access from your dashboard. Below your current account value is a link that leads you to this financing module.

For a partial withdrawal, there is up to 90% of your account value available for you to withdraw and the rest must at least meet the minimum for the service. You will be able to see how much you can partially withdraw: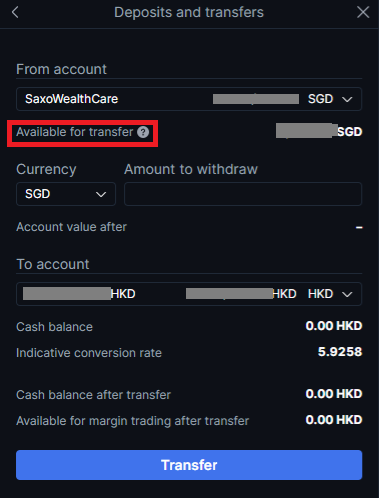 If you want to withdraw all your money, you will need to cancel your subscription. If exiting your plan altogether, all positions will be sold within 3 business days and the ongoing costs will be charged. The SaxoWealthCare platform will notify you when funds are available to withdraw.