For transfers of Stocks to your account outside Saxo Capital Markets, an exit fee will be charged. The fees are AUD 50 per ISIN (max AUD 200).

Saxo does not charge a transfer fee for inbound transfers. Do note, your sending broker might charge you a transfer fee.
Please see below You can perform securities transfers to and from Saxo, using different platforms.
SaxoTraderGO: click Account > Deposit and transfer
SaxoTraderPRO: click Menu > Deposit and Transfer > Securities transfer
SaxoTrader: click Account > Account (New account section) > Deposit and Transfer > Securities transfer
The images below describe the 5 steps you will go through to complete the transfer request:

Step 1: will be pre-filled with your Saxo account details.
Step 2: type the full and correct information about the Bank/Broker you are transferring from/to :
Bank/Broker Name
Contact Person
Phone number of that person including country code
Email of the contact person
Your account number at the Bank/Broker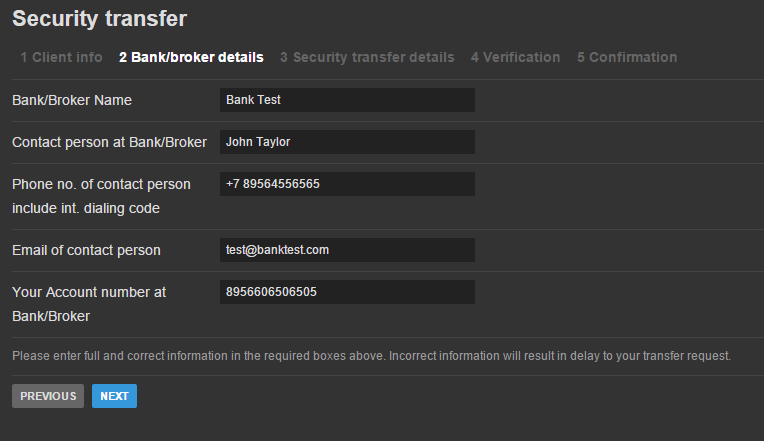 Step 3: type the Name or Ticker symbol of the instruments you wish to transfer in the "Find Instrument" field:


Indicate the quantity of securities you wish to transfer
Indicate the "Buy Price" at which you purchased them OR tick "Use Spot Price"
Steps 4-5: Verify and Confirm the transaction. Once you have finalized the process, Saxo will automatically receive you request. Please export and print a copy of the transaction and send it to your Bank/Broker.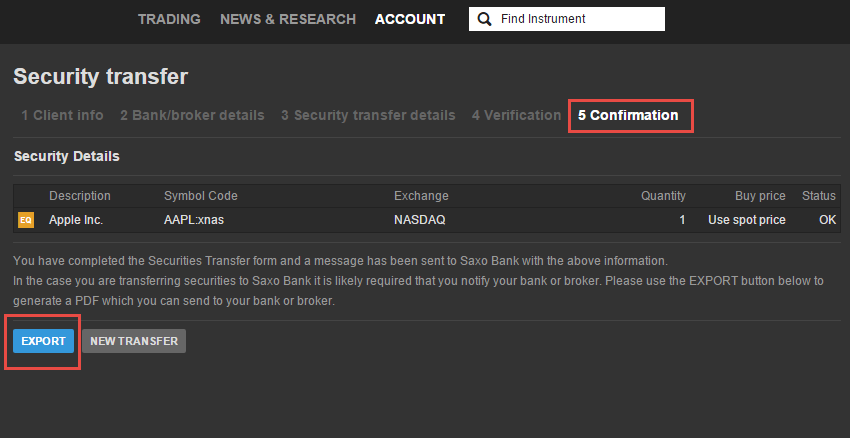 Changes to DRS Stock Transfer Fees

Please note that fees for stock transfers under the Direct Registration System (DRS) have been revised with immediate effect. Please refer to the Fee Schedule for more information.