Instrument P/L the change in the value of a position, taking into account costs associated with (e.g commissions) or income earned (e.g realised P/L) on that position. Instrument P/L can be viewed on Account level or for aggregated accounts; for a specific period in time e.g. Last year. The total sum of all Instrument P/L on the Account makes up the Position P/L shown in the Account Value summary.
The bar graph shows the total Instrument P/L for each product class invested in within that specified time period.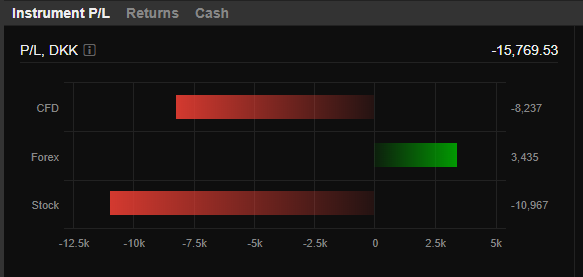 Clicking on the bar graph will show the breakdown of the Instrument P/L for each security within the given product (asset class).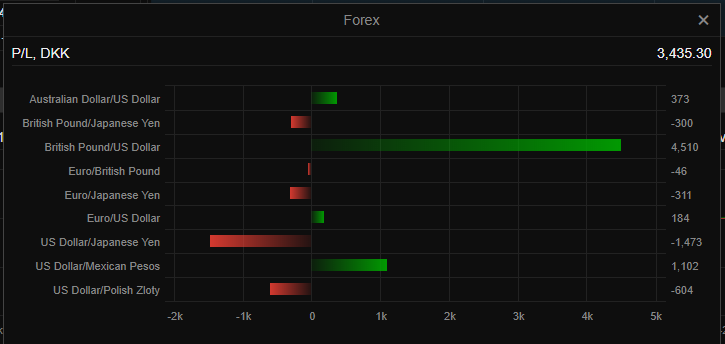 Above, is shown an Account that holds nine positions in the product class, Forex. The Instrument P/L for each individual position is calculated, and the sum of the Instrument P/L for the nine positions is shown in the asset class bar graph. The asset class bar graph shows the sum of Instrument P/L for the asset class, whereas the breakdown of the bar graph shows the Instrument P/L for each of these nine positions.
The Profit / Loss for an instrument for a given time period is always calculated as:

The Transaction Value is subtracted from the Position Value when a buy transaction is executed, to reflect that the Account incurs a cost in adding the instrument to the Account (costs related to trading activities). Whilst the Transaction Value is added to the Position Value when a sell transaction is executed. This reflects that the Account gains revenue (realised profit/loss) from the sale of an instrument held.
Note that the Transaction Value includes trade-related costs such as share amount, commission, exchange fees, stamp duty etc.