eDDA
What is eDDA?  eDDA refers to electronic Direct Debit Authorisation. It allows the payee to collect funds directly from the payer. It means you can directly request the funds to be transferred from your bank account using Saxo's platform, once the eDDA mandate is set up.
What currencies can I set up the mandates in and transfer funds? Currently we only support HKD and will gradually add more currencies. You can always transfer HKD from your bank account to non-HKD Saxo accounts using eDDA.
What are the fees and charges for utilizing eDDA?  There is no fee for this service. However there is a currency conversion cost for transfers from a HKD bank account to non-HKD Saxo trading account.
MANDATES
What is a mandate? A mandate is an instruction you send to your chosen bank to deposit for funds from your bank account to your Saxo account. 
How do I set up a mandate?   
Note:
Before you set up a mandate, please make sure your name and ID information with Saxo are exactly the same with the ones with your payer bank. You may encounter error message trying to set up a mandate if you registered a national ID with Saxo while you registered a passport with your payer bank.
Joint account cannot set up a mandate.
Step 1: Menu / Account > Deposits and Transfer

Step 2: Direct Debit Authorization > Add New Bank Account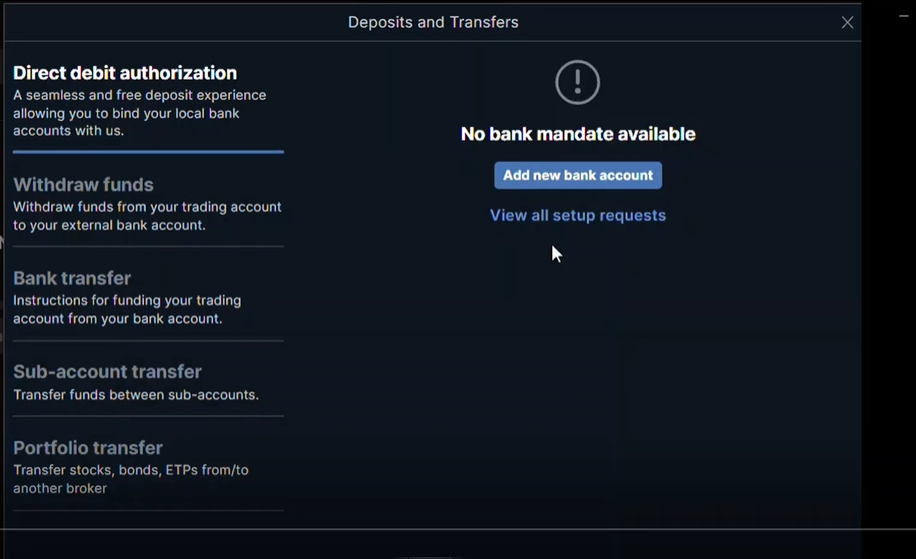 Step 3: Choose the bank among the list of banks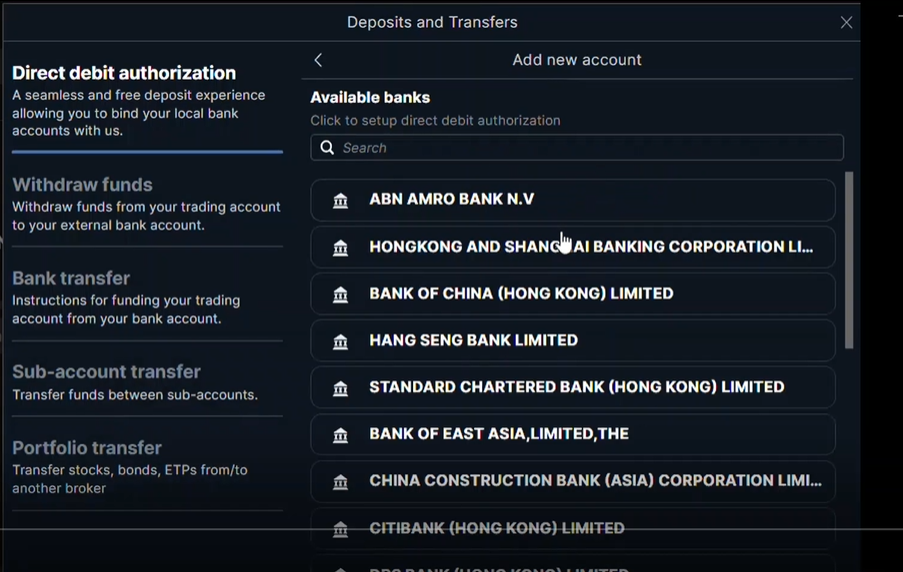 Step 4: Input your account number for the corresponding bank > Accept Terms and Conditions > Submit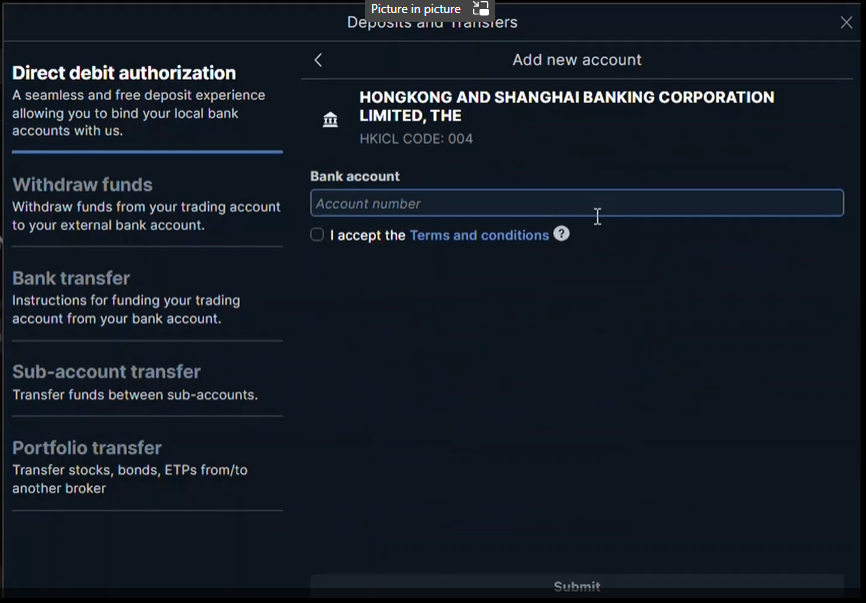 For HSBC Bank Mandate Setup
Step 5: You should have received the OTP (Verification Code) > Enter the code > Submit 
Step 6: Mandate is created > You can now deposit the funds using eDDA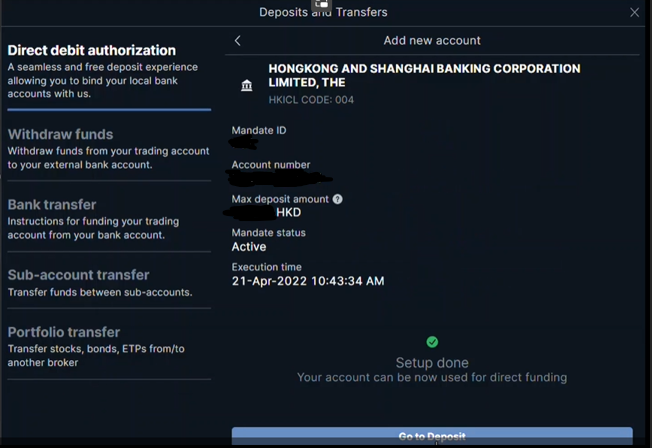 For non-HSBC Bank Mandate Setup
Step 5: After submitting the request, your authorization will be approved by your corresponding bank within 5 business days.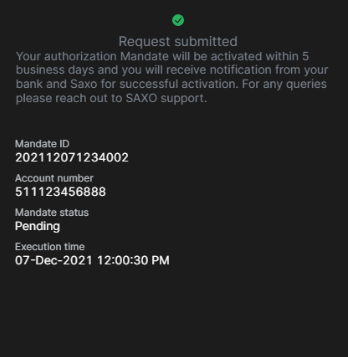 How do you check the status of your non-HSBC bank account mandate? You may call your payer bank to confirm the status of the mandate. Saxo sends out information of requested mandates by email on the email address your register with us. Since our information is derived from your payer bank, this notification may take up to 5 working days.    
How many mandates can I set up? You can set up to 5 maximum number of mandates on Saxo's platform. However, one bank account can only be linked to one mandate. Therefore, the same bank account cannot be used by multiple mandates, but just one. 
How long does it take for the mandate to be effective? This is dependent on your payer bank processing time. For HSBC, it would be of immediate effect. For non-HSBC banks, it would depend on the bank, but usually within 5 working days.  
Which banks can I choose to set up eDDA mandates with? You will find the list of available banks in the dropdown list on our platform. We aim to expand the list of supported banks over time and we welcome your suggestions.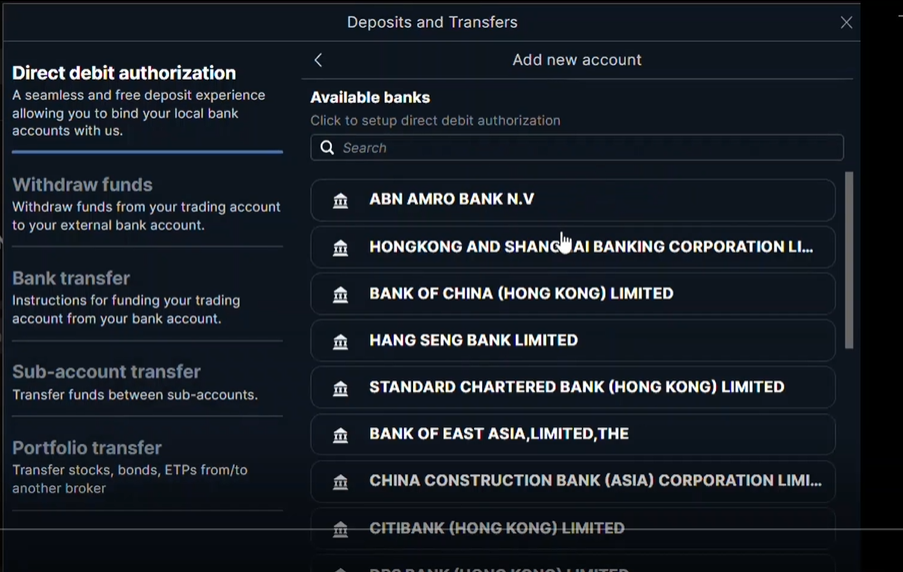 Where can I see all the mandates including the inactive ones?  You can find all mandates under Bank Mandates Management on the Direct Debit authorization section.   
They are categorized as follows: 
Active i.e. you can transfer funds using these

 

In-Progress i.e. these are not yet effective and pending processing

 

Historical i.e.  these are inactive or terminated mandates

 
TRANSFERS

 
How do I transfer funds?    
You can do so by  
viewing all mandates

 

Select the mandate you would like to transfer with

 

Keying in the amount and ensure it is in the right currency.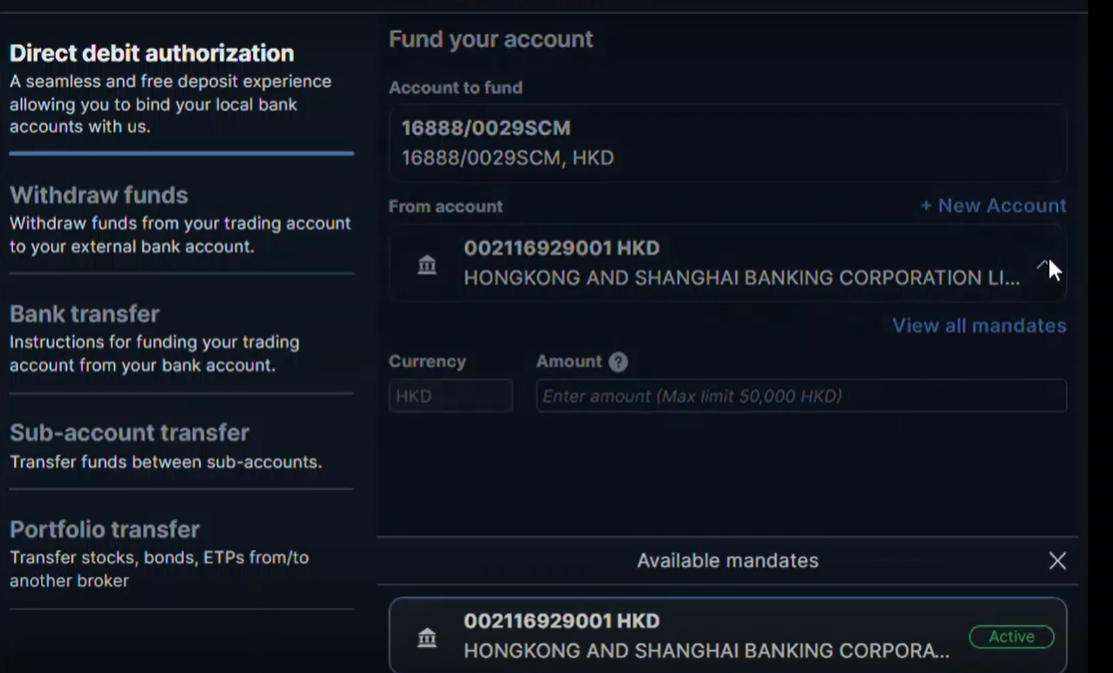 When you have done so, there should be a confirmation of the submitted transfer as per below.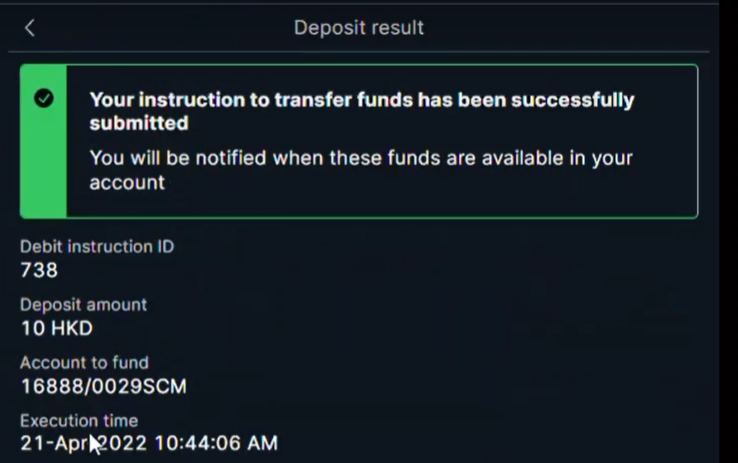 What is the conversion rate for transferring HKD to non-HKD sub-accounts? It would be the same as the one for sub-account transfer, which will be shown on the page when you initiated the funding.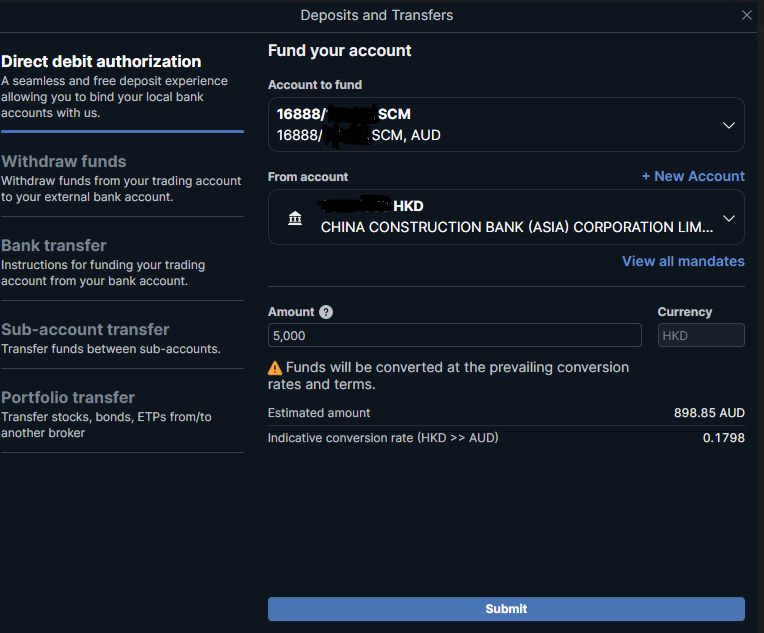 What are the minimal and maximum limits for eDDA fund transfer? There is no minimum for funding using eDDA; while the maximum is HKD 1million. You can change this limit by contacting your payer bank.  
How do I change the eDDA transfer limit?  You can contact your payer bank to modify the maximum transfer limit. 
Can I stop a transfer after submitting the instructions to transfer? As the process is automated, you will not be able to cancel / stop the transfer after the fund transfer is initiated. However, you can withdraw the funds out after the funds are received. 
How do I set up future deposits on a regular basis after setting up the eDDA mandate with Saxo? Please find details here