You might find this article useful in these cases:
The platform doesn't allow you to complete a withdrawal
The system tells you that you don't have enough cash to place a trade in cash products (e.g. stocks, ETFs)
These are the topics covered in the article:
How do I know what amount I can actually use?
Cash available is the amount you normally can use to trade or withdraw, and you find it under Portfolio, but part of that cash might still be blocked. Read also What is 'Cash available'?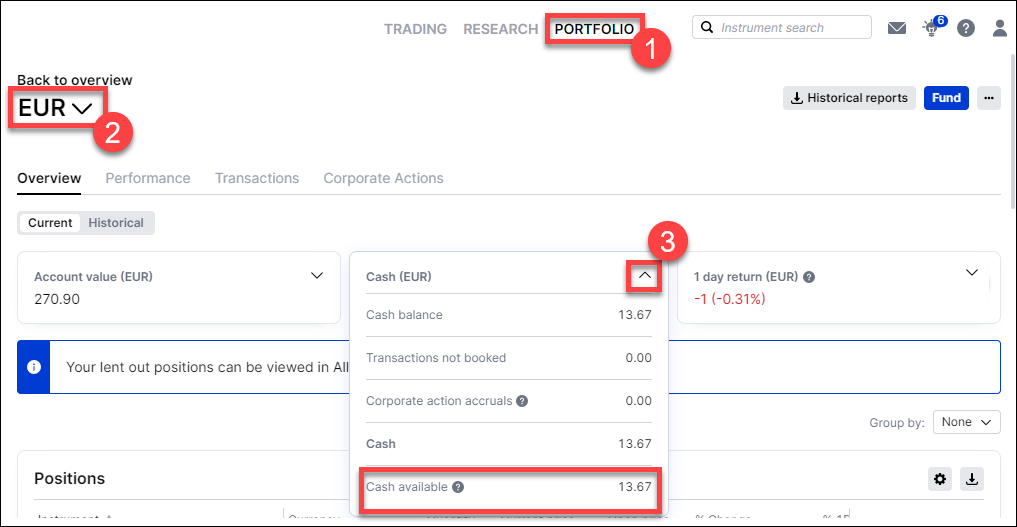 What can "block" part of my cash available?
Your cash available might be not fully available if:
The Account value shield is on

If it's on, you can turn it off or adjust the amount you set on Account value shield in SaxotraderGO.





You have working orders on cash products like stocks or ETFs


Go to your Orders and check if there are working orders ("Status" column). The orders block the cash necessary to be executed. You can modify or cancel the order and then proceed to withdraw.
Why is my Cash available less than the Cash balance?
Cash available is sourced from Cash balance and affected by multiple items in your account. The most common reasons that Cash available is less than Cash balance are:
Transactions not booked: Fees or interests that have been accumulated on your account but haven't been booked yet. They will be "reserved" from the Cash balance. You can click on the number at Transactions not booked and check the details.
Example: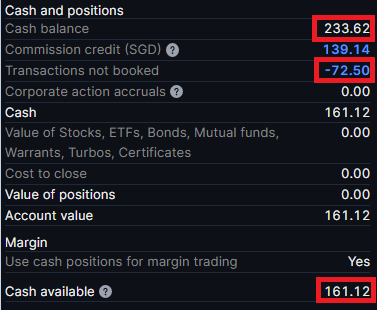 Initial margin reserved: If you hold margin positions (e.g. CFD/FX), the initial margin reserved will be "blocked" from your Cash balance.
Loss on margin positions: If you hold margin positions (e.g. CFD/FX) and there is a net loss on the positions, the net loss will be "reserved" from the Cash balance.
Example: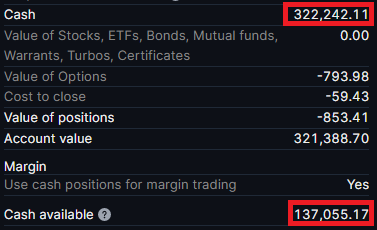 If you hold multiple sub-accounts, in any sub-account the max amount you can withdraw (cash available) cannot be more than the cash available on the whole account. In the screenshot above, the cash available is much less than the Cash because there are margin positions in other sub-accounts. The margin reserved and loss from the margin positions are "blocked" from the Cash.
Cost to close: If the cost to close a position is larger than the value of the position, the difference will be "reserved" from the cash balance.
If you hold some cash products like stocks, the value of the positions may offset some of the items above.