Saxo offers an Account Level Margin to professional clients who would like separate subaccounts and individual margin/stop-out functionality. This will, for example, suit clients with multiple trading strategies who would like to run the strategies on separate accounts with separate margin and performance reporting. Most importantly, the setup will prevent a losing strategy from closing out a winning strategy in case of a stop out. Read the full article to learn more.

What is Account Level Margin?

Account Level Margin is a client account feature that offers flexibility in terms of use of collateral and margin to clients with multiple subaccounts. Whenever a client opts to have multiple subaccounts under their Saxo ID, it is possible to enable Account Level Margin. The client's margin utilization can be calculated on a single or a group of subaccounts rather than at the global client level. Consequently, any margin call or margin stop-out can also be issued and executed on a single subaccount or group of subaccounts.

At the time of setup, the client can choose how the margin calculation should be grouped on the different subaccounts. Here are 4 examples of how a client with 5 subaccounts could potentially be set up:






If we examine the second example, "Single margin calculations", then as a result of Account Level Margin, the visible margin requirement will be the one shown under the individual subaccounts. Hence, accumulated margin utilization on the client level will not be visible on the platform when "All accounts" is selected in the account bar of SaxoTraderGO:





However, staying with the second example, when a single subaccount is selected, the margin information related to that subaccount is displayed:





If we move on to examples 3 and 4, the subaccount group margin is now enabled, so now the Account selector will indicate that Account Group Margin and the Account Margin functionalities are active: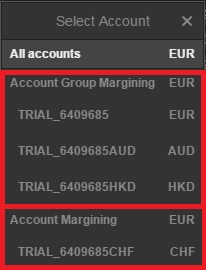 As in the above example, margin information will be available on the Account Group, and the EUR, AUD and HKD subaccounts, belonging to the same subaccount group, are cross collateralized and margined together. In this case, it is possible to see the margin utilization on an Account Group basis, but not individual subaccount basis:

Margin utilization on the Account Group level:




The AUD account is part of the cross-margined Account Group, so no margin information:





The CHF account is individually margined, and therefore displays margin information:



Please note that the same views exist in SaxoTrader, but it may appear in a different format.

What are the benefits?

Clients that opt for a subaccount structure will have the flexibility of managing their total engagement with Saxo under a single User ID:


Clients only have to remember one User ID/Password.
Clients will easily have the ability to switch between the subaccounts for trading, without logging out and in.
Clients have flexibility in terms of how the subaccounts are coupled and margined.
Clients can see their margin utilization separately on each subaccount or group of subaccounts.
Performance reporting (Account Value / % return) information is available on single account level, account group level or client level via SaxoTraderGO.

How does the margin stop-out work?

As a rule, margin calls and margin stop-outs will only affect the respective subaccount or subaccount group(s), without affecting other subaccounts or subaccount group(s). However, there may be exceptions, such as in the case where a subaccount or subaccount group(s) is/are in negative equity. See the Guidelines and Disclaimer section.

Enabling and disabling of Account Level Margin

A client should request to enable Account Level Margin via the account manager. It is the client's responsibility that all subaccounts fulfill the margin requirements before enabling the account level margin functionality. Disabling or changing the Account Level Margin functionality can also be requested via the account manager. Clients cannot expect changes to take immediate effect and have to be aware that processing time for desired changes to take effect has to be taken into account.

(As an exception, it should be noted that if you invest via SaxoSelect, an individually margined subaccount is automatically created for each strategy that you invest into, and therefore no signed form is required for doing this.)

Guidelines and Disclaimer

General terms and conditions for subaccount/group margin are available on the application form. Here are a couple of common questions around Saxo's practices on multiple subaccounts:

Subaccounts or subaccount group(s) in negative equity:

If any subaccount falls into negative equity, Saxo reserves the right to transfer funds from one of the other subaccounts in the structure to cover for the deficit. Such transfer could cause one or more of the subaccounts to be subject to stop-out. There may also be costs associated with such transfers, for example conversion fees if funds in different currencies are transferred. It is the client's responsibility to maintain positive balances and fulfil margin requirements on all individual subaccounts as well as on an aggregate level. Saxo will monitor the client's risk exposures and balances on a counterpart basis, and reserves the right to proceed with actions to manage the client's aggregated risk towards Saxo not limited on a subaccount basis.

Changing margin/subaccount setup:

Changes are requested in the same manner as for a new subaccount setup. That means a new application form must be signed and submitted. Please note that such request will take time to implement and Saxo cannot be held responsible for close-outs/losses occurring as a result of elapsed time during the change process.