Option Greeks are used to measure the sensitivity of an option's price. Option Greeks refer to simple concepts that can help better understand the risk and the potential reward of an option position.
Greeks can be seen on the platform in the trade ticket under the FX option.
"Greeks" are based upon mathematical models:
Delta: Shows the equivalent FX Spot exposure of a given position. This is the sensitivity of a position's value with respect to the spot rate.
Gamma: This is the second derivative of the position value with respect to spot, i.e. it shows how much the delta changes when spot changes (i.e. how much will the delta change when spot moves up by

one percentage point

.
Vega: Sensitivity of a position with respect to the implied volatility used to price FX Options. This shows how much money is made (positive number) or lost (negative number) when volatility goes up by one percentage point.
Theta: Also known as time decay. This shows by how much the position will increase or decrease in value from one day to the next.

Where can I see the updated greeks in the platform?
SaxoTraderGO / SaxoTraderPRO
it is possible to see Greeks in Trade ticket details.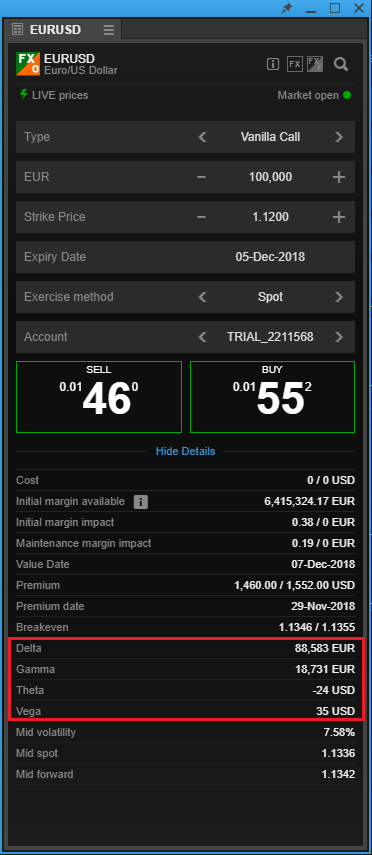 For the open position:
Click on

symbol on the position line or go to Options

and click Greeks.

For a view on the Greeks of your FX Option portfolio, you need to access the Forex Options Reports. Here you can either select "Spot ladder" or "Spot/Vol Grid", and then view the updated Greeks under various scenarios.
Forex Options Report can be found:
SaxoTraderPRO: ADD MODULE > Other > Forex Options Reports
SaxoTraderGO: Account > Other > Forex Options Reports