There are borrowing costs on Short overnight Single Stock CFD positions.
A borrowing cost may be applied to short Single Stock CFD positions held overnight. This borrowing cost is dependent on the liquidity of the underlying Stocks and may be zero (0) for high liquidity Stocks. Estimated borrowing cost per day can be seen in a Trade Ticket details.
When selling a CFD, the borrowing cost for holding the position overnight is shown in the CFD Trade module in the 'Estimated borrowing cost per day' field. The borrowing rate will be fixed when the position is opened and will be charged on a monthly basis. Please be aware, that for certain corporate action events, the borrowing rate on the short position may be reset to the current rate in the market, upon the execution of the corporate action.
If you open and close a CFD position within the same trading day, you are not subject to borrowing costs.
When you trade a CFD, you can see the both the standard CFD financing costs involved on single stock CFDs (Interest/day), as well as the estimated borrowing cost to be applied if applicable (Est. Borrowing cost/day):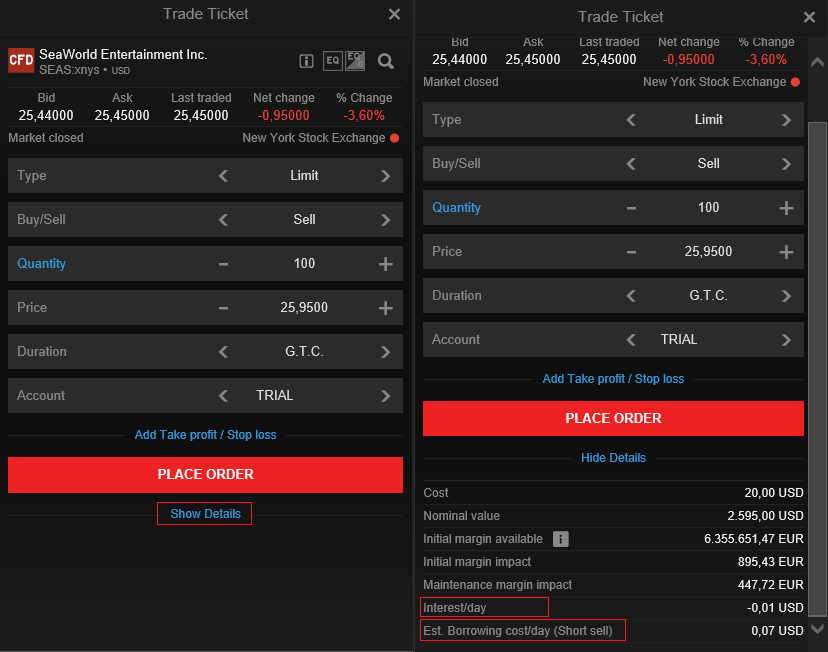 In the example above, shorting 100 SEAS:xnys CFDs will result in a position of 2.595,00 USD- assuming the same price at the end of the day, and that interest rates remain unvaried, the client would pay 0.01 USD in standard financing costs, and 0.07 USD in borrowing costs.