The total profit/loss of a position in your account currency is defined as the total cash flow at the opening, evaluated against the total (estimated) cash flow at closing. 
For a stock, this is the amount you receive when you sell your stocks (net of commission, exchange fee and tax) vs. the amount you originally paid for the stocks (including commission, exchange fee and tax).
In case the stock is traded in a currency different from your account currency, fluctuations in the currency rate will affect the total profit/loss. 
In this article we cover the following topics:
Where do I find the position details?
The position details in SaxoTraderGO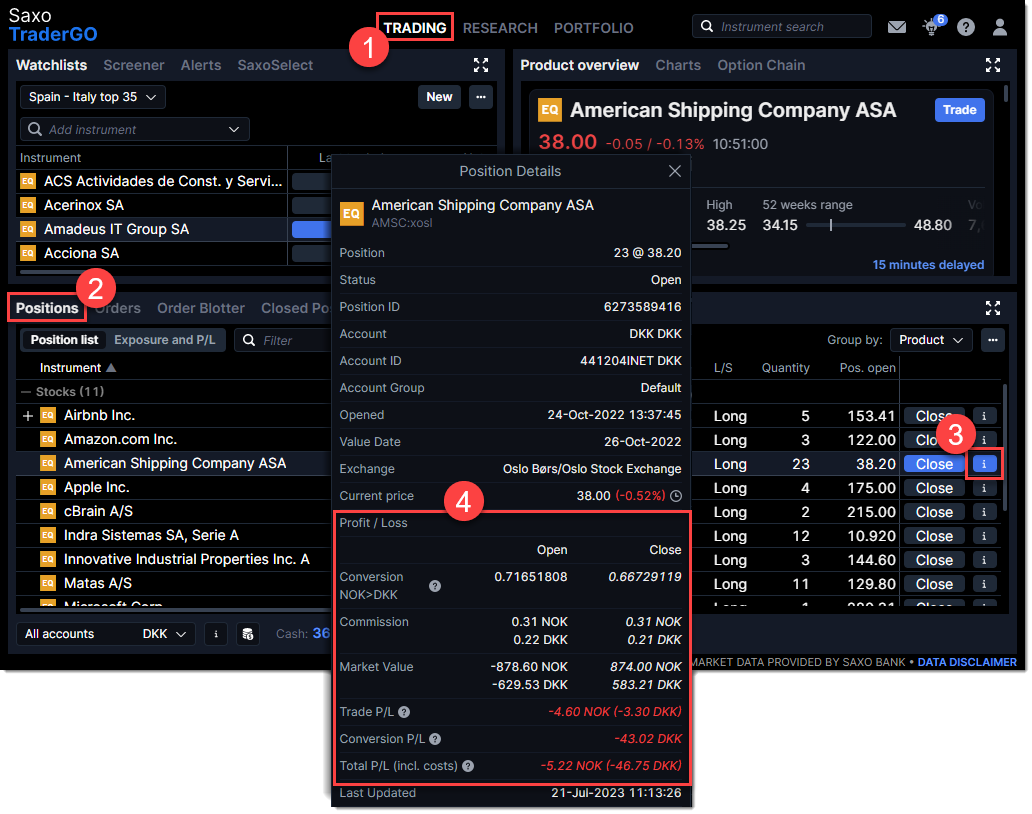 The position details in SaxoInvestor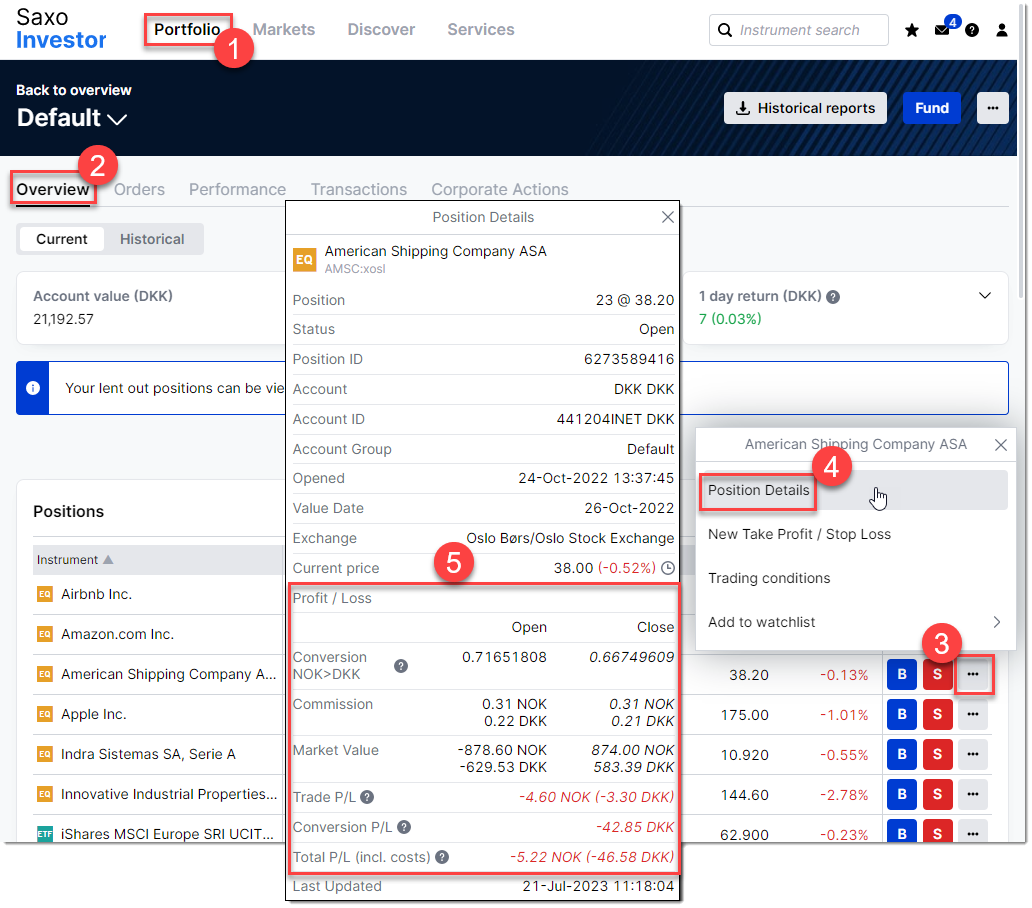 Description of the 'Profit / Loss' details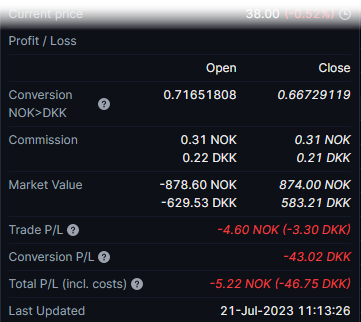 Example showing the calculations for commission and market value:
 
open
close

Conversion 

NOK>DKK

0.71651808
0.66729119

Commission

 

0.31 NOK

0.22 DKK

 

Converted using the open conversion rate:

0.31 NOK*0.71651808=0.22 DKK

0.31 NOK

0.21 DKK

 

Converted using the close conversion rate:

0.31 NOK* 0.66729119=0.21 DKK

Market value

-878.60 NOK

-629.53 DKK

 

Converted using the open conversion rate:         

-878.60 NOK*0.71651808=-629.53 DKK

874.00 NOK

583.21 DKK

 

Converted using the close conversion rate:

847.00 NOK* 0.66729119=583.21 DKK
Example showing the calculations for trade P/L, Conversion P/L, Total P/L (incl. costs): 
Trade P/L is calculated as: 
Open market value in NOK: -878.60 NOK
Close market value in NOK: 874.00 NOK
Trade P/L=open market value + close market value= -878.60+874.00=-4.60 NOK
Trade P/L (DKK) is calculated as:
Trade P/L (NOK): -4.60 NOK
open conversion rate: 0.71651808
Trade P/L (DKK)=Trade P/L (NOK)*open conversion rate=-4.60*0.71651808=-3.30 DKK
The conversion P/L is calculated as: 
Open conversion rate: 0.71651808
Close conversion rate: 0.66729119
Close market value=874.00 NOK
Conversion P/L=(close conversion rate-open conversion rate)*close market value=(0.66729119-0.71651808)*874.00=-43.02 DKK
Total P/L (incl. cost) in NOK is calculated as: 
Trade P/L (NOK): -4.60 NOK
Commission in NOK: open commission + close commission=0.31 NOK+0.31 NOK=0.62 NOK
Trade P/L (incl. cost) in NOK: trade P/L (NOK)+commission in NOK=-4.60 NOK+-0.62 NOK=-5.22 NOK
Total P/L (incl. cost) in DKK is calculated as: 
Trade P/L (DKK) =-3.30 DKK
Commission in DKK: opening commission in DKK + close commission in DKK=0.22DKK+0.21 DKK=0.43 DKK
Conversion P/L: -43.02 DKK
Trade P/L (incl. costs) in DKK: trade P/L (DKK)+conversion P/L+ commission in DKK=-3.30 DKK-0.43DKK-43.02DKK=-46.75 DKK
The formula
Formally, total profit/loss can be expressed as: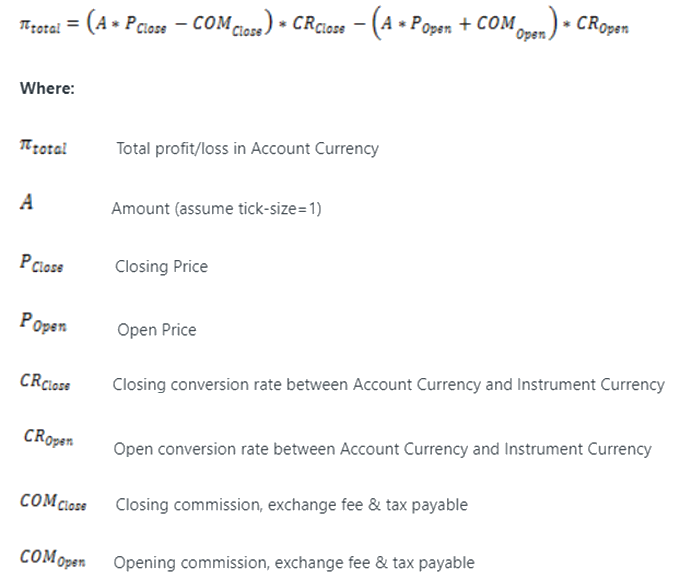 Re-arrangning the expression above (and skipping the algebra), we can express total profit/loss in your account currency as the sum of:


Price fluctuations in the instrument > Trade profit/loss
Currency fluctuations between your account currency and your instrument currency > Conversion profit/loss
Commission, exchange fee, tax etc. > Cost loss