It is possible to monitor FX Exposures in SaxoTraderPRO.
FX Exposures is a module that streams your single currency exposures.
To launch the module in SaxoTraderPRO click Add Module > FX Exposures.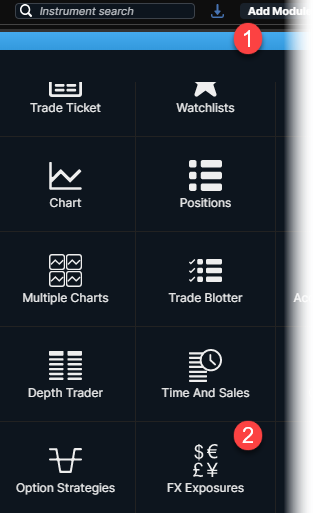 Single currency exposures are shown in Currency, Account Currency, and Currency (USD).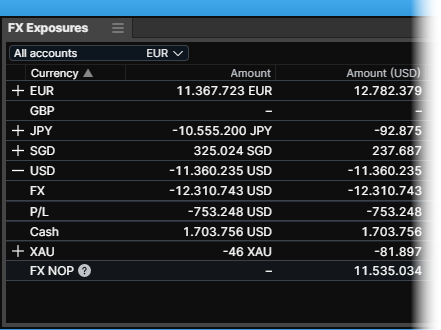 The module also displays the following exposure limit and exposure utilization data:
Exposure Limit: The configured exposure limit in the currency
Exposure Utilization: The exposure in each currency divided by the exposure limit, in %
The data in the module is exportable in Excel, just right-click > Export.
Value Dated FX Exposures
FX Exposures are also available in a value-dated layout.
Exposure item
Components
FX

FX net positions in the following instruments:

FX Spot
FX Forward
FX Vanilla Option (delta-weighted)

P/L

Includes:

FX Spot and FX Forwards Open P/L
FX Spot and FX Forward CLosed P/L
Margin products Open P/L

Cash

Includes:

Cash balance
Transactions not booked
FX Option premium value

FX NOP
The NOP Value (Net Open Position Value) is the sum of all short single currency exposures