Saxo currently offers fractional trading on all Crypto FX pairs and all CFD Indices (except JP225 and DEN25).
Fractional sizes allow clients to trade smaller notional amounts, thus creating greater flexibility and more accurate hedging possibilities.
To see how many decimals an instrument can be traded in, simply go to the Trading Conditions and look for Fractional amount decimals: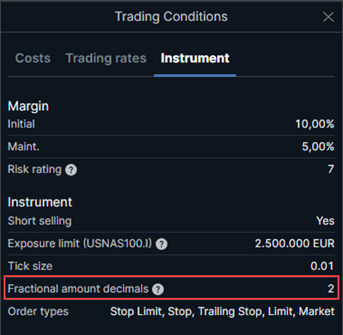 For instruments enabled for fractional trading, the default quantity and default increments in the Trade Ticket is by default set to 0.5.
You can set your own predefined default values by following these simple instructions:
Open the Trade Ticket
Find the Speed Ladder
Click Edit amounts
Edit and press OK