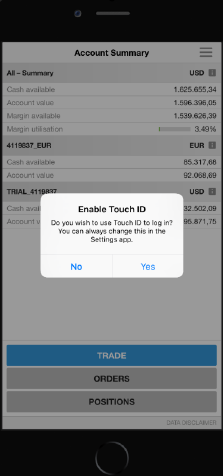 If Touch ID is enabled on the SaxoTraderGO settings, you are presented with the above message at your first login. You can decide to use it or keep the standard client verification by entering your User ID and Password. You can always disable or enable it later, you just need to go to the iPhone/iPad Settings

, look for SaxoTraderGO and here activate or deactivate Touch ID: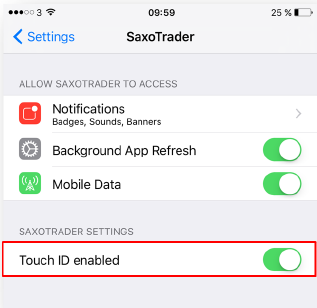 Setting up Fingerprint on Android
After installing the App from the Google Play Store you will be prompted with the option of using Android Fingerprint as verification if your device meets the following requirements:
Device running above Android 6 or above
Device is equipped with a fingerprint sensor
You have at least one fingerprint registered for device authentication
At your first login you will be given the option of using Fingerprint.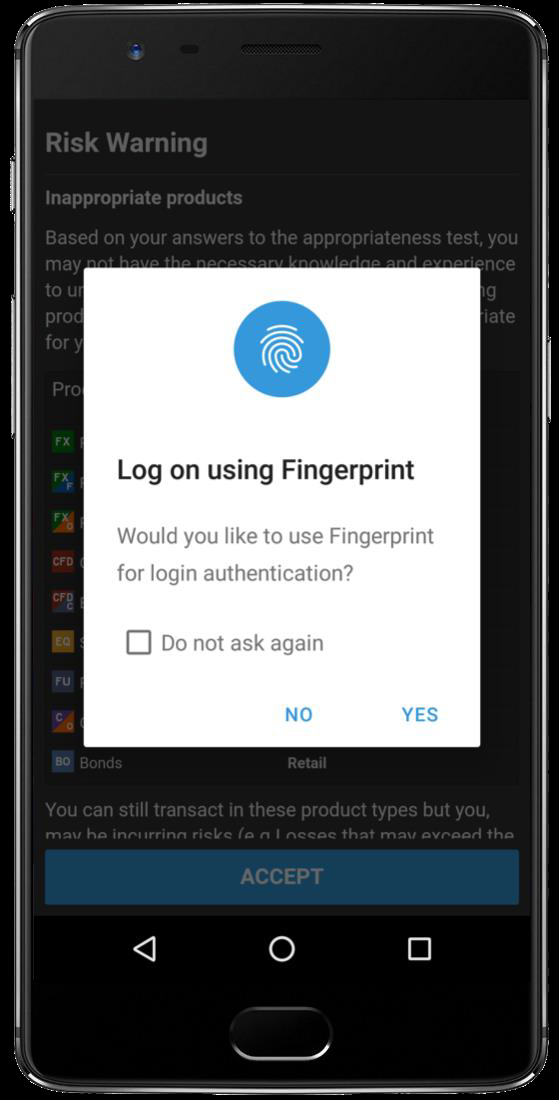 At this point you have 3 options:
Dismiss Fingerprint verification by selecting NO. You will be asked again at the next login.
Dismiss Fingerprint verification and tick "Do not ask again." The Fingerprint option will not be displayed again unless you clear the app cache or uninstall and reinstall the app from Google Play.
Enable Fingerprint as an option by selecting YES. This will store your credentials in the Android Keystore system and the Fingerprint option will be displayed at every subsequent launch of the app.
If you only have 1 user ID, the Android Fingerprint will apply the login credentials automatically upon successful Fingerprint verification.
You can also choose to store multiple IDs across both demo and live accounts by selecting CANCEL and entering the new credentials in the login form, at which point you will be prompted to either replace the current credentials or have them added as a second set.
Upon successful Fingerprint verification, you will be able to edit the list of stored user IDs as well as select which login credentials to apply.