In this article you will find information related to:
Managing Notifications in your Saxo account
Enabling notifications on your mobile device
Manage Notifications in you Saxo account
Go to > Settings > Notifications
If Notifications for the SaxoTraderGO app are enabled on your mobile device, you will automatically start receiving push notifications for most options (Positions, Orders, Price alerts,...). In addition to the standard Notifications you can enable notifications for Insights and Protect position alerts.
In the Push notifications on devices section you can manage notifications for every mobile device that has SaxoTraderGO installed (Phone and Tablet).
If your mobile device is not visible you may have said "no" to Saxo messages at first launch of the app. To enable notifications for the Saxo app, follow the instructions below.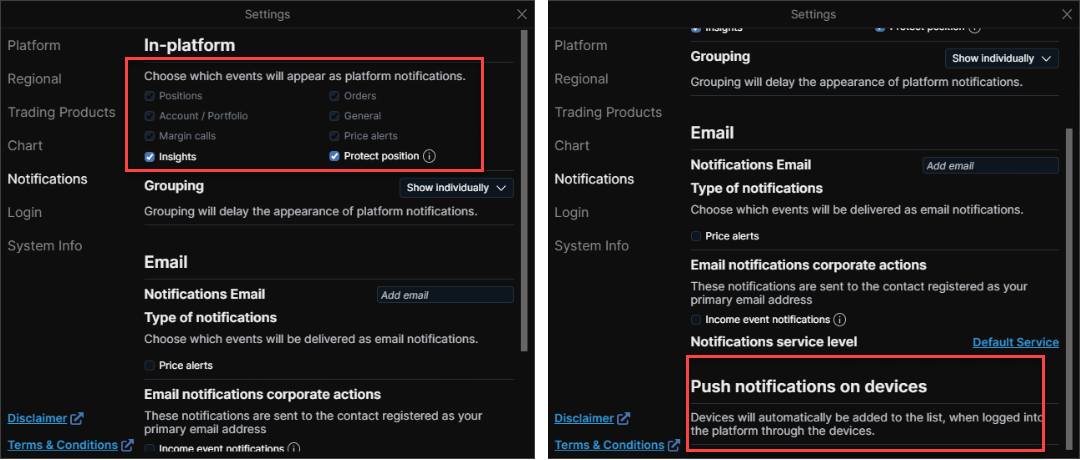 Enable notifications on your mobile device
iOS phones
Go to Settings > Notifications, select SaxoTraderGO, and make sure that Allow Notifications is on.
Android phones
Open your phone's Settings app.
Tap

Apps & notifications

>

Notifications.
Under "Recently sent," find apps that recently sent you notifications.

If SaxoTraderGO is not there, tap

See all.

Tap

Advanced and find SaxoTraderGO. Enable Notification