Saxo offers a wide range of financial instruments on our platforms. This includes CFDs, which due to their flexible nature allow you to place positions which can profit from either an increase or decrease in the price of the underlying asset. 
CFDs are complex instruments and come with a high risk of losing money rapidly due to leverage. 75% of retail investor accounts lose money when trading CFDs with this provider. You should consider whether you understand how CFDs, FX or any of our other products work and whether you can afford to take the high risk of losing your money.
What is a CFD? 
A CFD (or Contract for Difference) is a financial derivative, meaning that the product (the contract) is derived from an underlying asset. That can be stocks, indices such as the S&P 500 or FTSE 100, commodities such as gold or oil, currencies, or a number of other assets.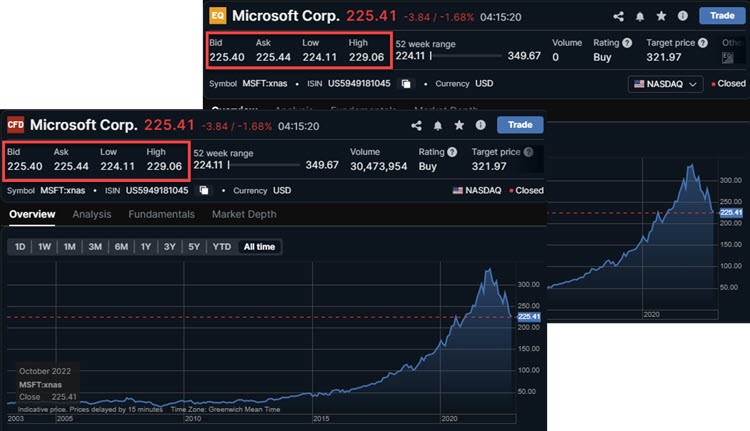 How do CFDs work?
CFDs are margin traded. Margin trading is a way for traders and investors to punch above their weight when entering positions.
When buying shares (not margin traded), you'll typically be able to only invest the amount of capital in your account (i.e., if your account balance is $10,000, you could buy shares worth $10,000.) The value of a CFD contract is not directly tied to the underlying asset's value but rather the price change between the entry and exit of the trade. 
When trading a margin product, you still need capital. However, margin trading means that your position uses leverage. If you take on a margin position, a certain amount of your investable capital is posted as collateral. Due to the margins, the position gets leveraged, meaning that you may only need to post $1,000 to take on a position of up to $5,000.
For example, if a stock CFD has a value of $1,000, and the margin requirement is 5%, it would take $50 as collateral to get exposure to that stock. This also means that CFDs offer 'leverage.' In this case, owning the stock will require $1,000. With a CFD, you can get the same exposure to the price movement of the stock, without owning it, for a mere $50 in collateral.
Thus, utilizing leverage also means that the underlying asset's price movements will become magnified, resulting in higher profits (or losses) as compared to owning the underlying asset.
How do I see the margin requirement for a CFD?
To see what the margin requirement is for any CFD on Saxo's platforms simply open a trade ticket and click the 'i' icon and click Instrument to see the margin details. 
Risk
While this means that any returns will be amplified compared to the posted amount of capital, losses may also be amplified. That is why we provide risk-management features such as stop-loss orders.
Due to their flexible nature, CFDs can, of course, be used for more aggressive trading. To the less aggressive trader and investor, CFDs can be used for mitigating risk to existing positions in times of volatility.
Other useful information
When trading CFDs please be aware that further fees and conditions will apply. To find out more please refer to the following pages: