Phone number and email address
You can update your personal information after you have logged in to your account:
Or navigate to the main menu

> Update personal information > Update account details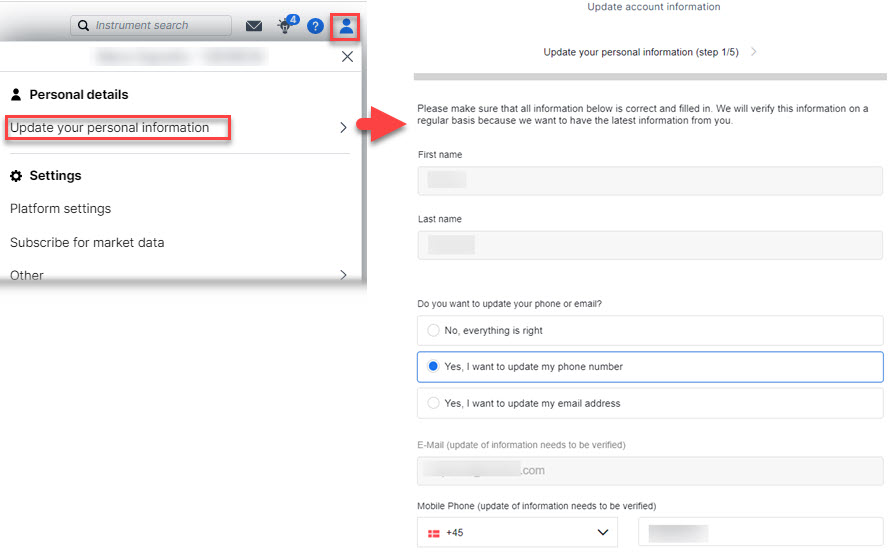 If you have problems opening the form, try the Troubleshooting Instructions. 
The form might not be available
If you have been contacted by us (

clientrenewal@saxobank.com

)

to verify and

renew your account details and documentation

, the option to update your contact details on the platform might be temporarily unavailable until the verification process has been completed by Saxo.

For some account types, the form is not available at the moment. If you don't have access to it, please get in touch and we will assist you.
Name
Please inform us of your new name via a Support request, select the option Contact us> Personal information and documents and attach the proof of your new name in the form of one of the documents: 
National Identity Card
Passport
Deed Poll
Residential address 
Click

 

here to go to Personal information and documents
Select the option:

 

Proof of identity / Residential address, and attach a proof of your new address in the form of one of the documents (issued within 6 months):
National Identity Card
Bank Statement
Utility Bill
Landline/Internet Bill  
Tax Statement 
Drivers License 
Official government document issued in your name 
*Note SaxoInvestor is currently available in Denmark, Poland, Singapore, Australia, Hong Kong, France, The Netherlands, Belgium and the MENA region (UAE, KSA, Bahrain, Kuwait, Qatar, Oman, Lebanon, Jordan, and Egypt).