Monitoring your open positions on Saxo's platforms is easy and provides you with the necessary information to stay informed on your investments. 
This article will briefly outline how to monitor your open positions in SaxoTraderGO and SaxoInvestor.
Watch the video or read the guide below:
| | |
| --- | --- |
| SaxoTraderGO | *SaxoInvestor |
| | |
SaxoTraderGO
To view your open positions simply go to the bottom of the Trading tab where you will see your Positions.
In the Positions tab, you will see all of your positions and relevant information including whether you are long or short, the amount, the price at which the position was opened, the current price if you were to close the position, the P/L, and the price difference in percentage, the option to add a stop or limit order and close the position among others. 

SaxoInvestor
In SaxoInvestor, you will find your positions under the Portfolio tab, where you will see a breakdown of your positions by instrument type.
Here, you will also see all the relevant information for each position including the quantity, the opening and current closing prices, and the position P/L. 
SaxoInvestor also gives you a graphical breakdown of your positions by asset class, country, and sector.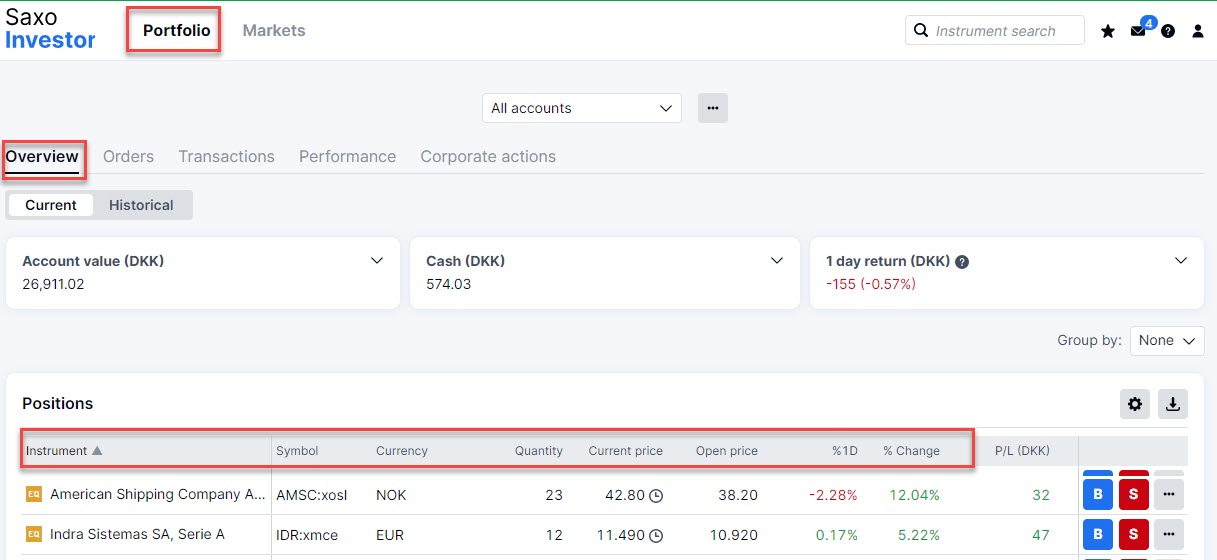 *Note SaxoInvestor is currently available in Denmark, Poland, Singapore, Australia, Hong Kong, France, The Netherlands, Belgium and the MENA region (UAE, KSA, Bahrain, Kuwait, Qatar, Oman, Lebanon, Jordan, and Egypt).