The new product screener is an option we added to the existing watchlist in SaxoTraderGO and SaxoTraderPRO and can be used to create dynamic watchlists, based on screening criteria including:
Countries
Exchanges
Market capitalizations (USD)
Analyst Consensuses
Listing
Price/Earning
Currencies
Results can be sorted (ordered) by:
% return
Popularity
Market capitalization (USD)
Dividend yield
Price / Earnings
Sales growth 1 year
Upside to analyst target price
Alphabetically
 
To add a screening watchlist
To add a new screening watchlist, select New list in the screener section of Watchlist selector.
Note, you can add standard (non-screening) using the new list at the top of the Watchlists selector.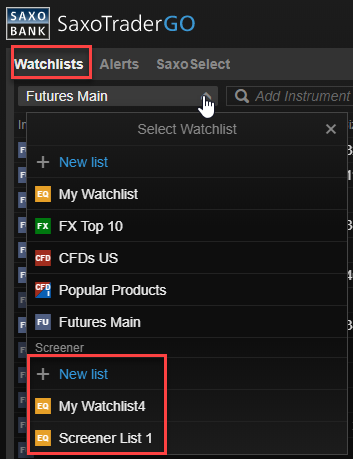 Add screener
Add screeners by clicking Add filter and selecting the screening filter.
The range of additional filters available are dependent on which product type is selected.





Open the drop-down list to select the filter criteria: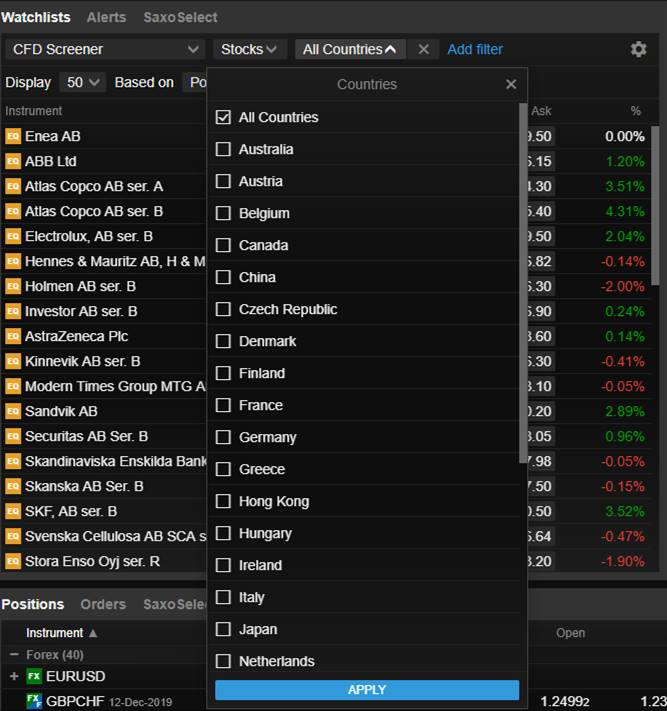 Sort and order the results
Select the number of results and order the results from the screened list.

Using a screener list
Manage a particular screener list via the Settings:
Here you can change the name, layout and delete the list.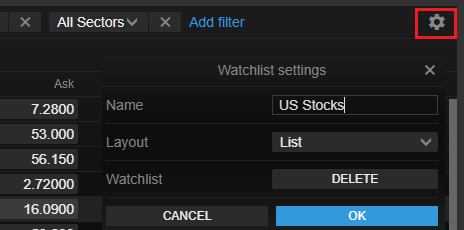 The contents of a screener list are refreshed when the list is loaded or filters amended only.
It is not possible to add additional instruments or manually rearrange a screener list.
The constituents of the screener list are determined by the query filter and sort order selected and remain consistent from when the list was last refreshed.
Any of the additional data available as filters can also be manually added as a column to both screener lists and watchlists.