With our two-factor authentication, you can only log in from devices you have chosen to trust; otherwise, you will verify each login with an SMS code. 
A trusted device is a computer, tablet, phone, or browser that you verify as safe in order to skip additional verification steps for future logins with the same device. 
Adding a trusted device is simple. We'll walk you through the process in a few, easy steps.

Logging in with a new device
Log in by entering your

U

ser ID

 and 

P

assword

.

 

If we detect that you are logging in from a device that has not been trusted, you will be asked to enter an SMS code, which is sent to the phone number associated with your account.

(

Has your phone number changed?)

 

Enter the SMS code and click 

Verify

.




Select whether you want to trust the device you are currently using:

 

If you choose to

trust the device

,

you will not need to enter an SMS code for future logins with the same device.

 

If you choose 

not to trust the device

,

you will need to complete the SMS verification every time you log in to the platform from that device.

 

 
After making your selection, click Continue to SaxoTraderGO to log in. 
Rename the device:
After you enter your verification code, you can also choose to rename the device and we recommend doing so as it provides clarity for future use. 
SaxoTraderGO App:
This feature is also available on the SaxoTraderGO App and it follows the same process as the browser section, however, you need to enable biometrics (Face ID/Touch ID) in order to mark your device as trusted. 
Changing your account phone number
If your registered phone number has changed, you can click Update here during the login process or go to the Change your phone number page directly from this article and update your details.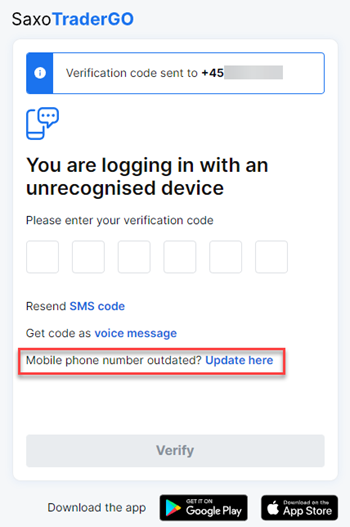 Managing your trusted devices 
Trusted devices limit 
You can have a maximum of 6 trusted devices associated with your account. If you try to trust a 7th device, you will be asked to replace one of your existing trusted devices in order to continue logging in and trusting the new device. 
Select the device you want to replace and click Replace and continue to log in.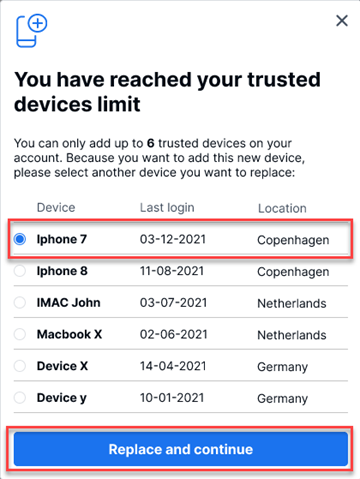 Remove Devices 
You can choose to remove a trusted device if you do not wish to use it anymore. 
After logging in to your account:

Click on the menu

Click

Platform settings

Select

Login & Security

Look under the

Trusted devices

section

Click on 

Manage devices
Under the Active tab, you can choose to Remove any trusted device from your device list.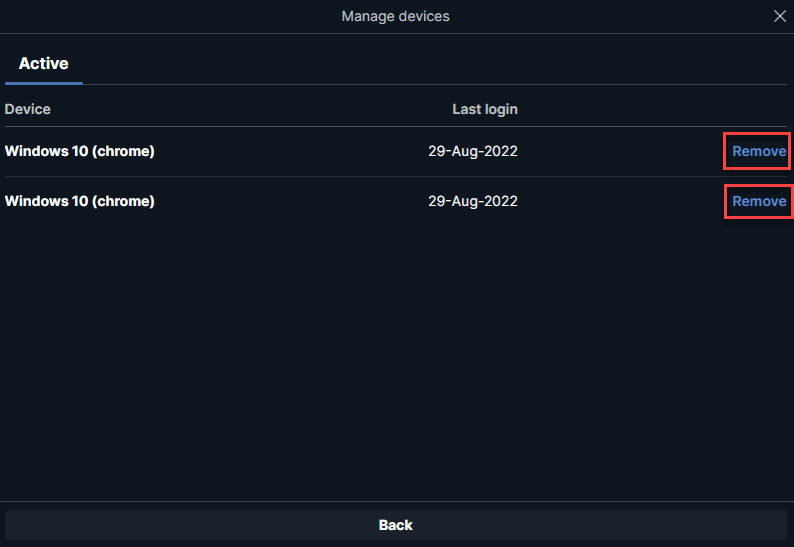 Removing a device will remove it from your account completely. The device will no longer be trusted/associated with your account and will not be visible in the device list. If you would want to add the device back in the future, you would need to go through the two-factor authentication process again to trust the device.