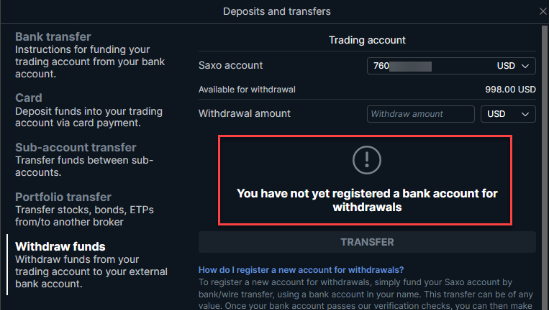 If you don't have an account registered for withdrawals or you want to add another account:
Do a simple bank transfer* to your Saxo account. Read also: how to make a bank transfer.

The bank account must be in your name
The transfer can be of any amount



We verify the incoming payment details and store them for you to withdraw securely. Wait for the notification that the payment has been received (this can take up to 3 business days)


You can then make withdrawals to the new account
*Note
Bank/wire transfer is the only method that automatically verifies your bank account for later use for withdrawals. This does not apply to card payments.
Allow three working days for your account details to appear in the External account drop-down menu. If this has not taken effect by then, please contact our support team: How do I request support?

If you are having difficulties in getting the account registered with a normal bank transfer, you can click on this link, log in and provide the necessary information and documentation to get the external account verified and approved.