If you have a long and a short position, they will net out at the end of the trading day (unless Real-time Netting is enabled). This is provided that the positions are on the same account and that none of the positions have related orders attached, as related orders prevent the Netting of open positions.
First-In-First-Out (FIFO)
When netting the open positions, Saxo uses FIFO rules, which means the first position you open is the first position to be closed.
How do I see if there are any related orders on my square position?
The following icon is indicating, that position has a related order:

.
Please refer to the below example.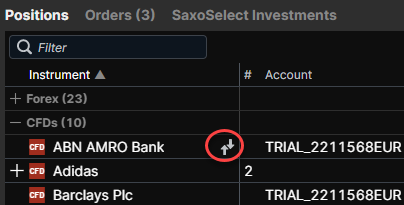 How do I see, if positions were opened from different accounts?
The account number is visible in the Positions list. If you do not have it displayed, you can enable it by going to manage columns settings in the top right corner of the Positions module.
Please refer to the below example.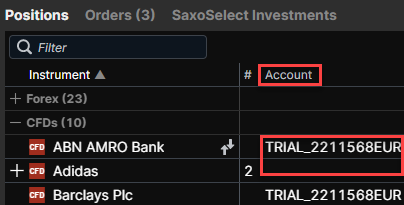 Please refer to the article How do I transfer positions between my sub-accounts? in case you want to do so.