The Option Strategies Ticket allows traders to simultaneously buy and/or sell different options from the same ticket. All option legs are delivered as one order and executed as one. Benefits of option strategies include reduced margin requirement and limited market risk through spread trading.
Highlights
11 preset strategies
On-the-fly strategy recognition when building an option strategy
Price and Greeks availability for legs and strategy
Cost, premium and margin impact information
Strategy name is displayed in the Orders module - the column of the same name has been added
The Option Strategies Ticket supports US Stock & Index options and Euronext Stock & Index options.
How to access Option Strategies ticket
SaxoTraderGO: Trading > Option Chain > STRATEGIES
SaxoTraderPRO: ADD MODULE > Trading > Option strategies

Option Strategies ticket can also be launched from a watchlist - right click on the stock and choose Option strategies. The Option Chain has been upgraded with an Option Strategies right-click menu.
Using Option Strategies
1. Launch the module and select a strategy or manually add a leg. Hit BUY / SELL button, once you satisfied with chosen criteria's .
System recognizes a strategy if you build it manually, unmatched strategies are recognized as custom.

There are 11 strategies available in the ticket.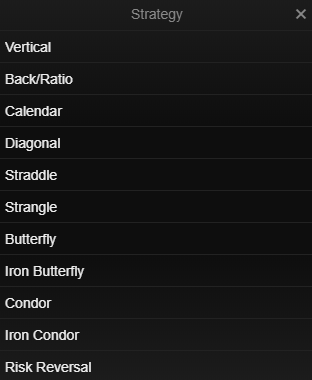 2. Confirm the order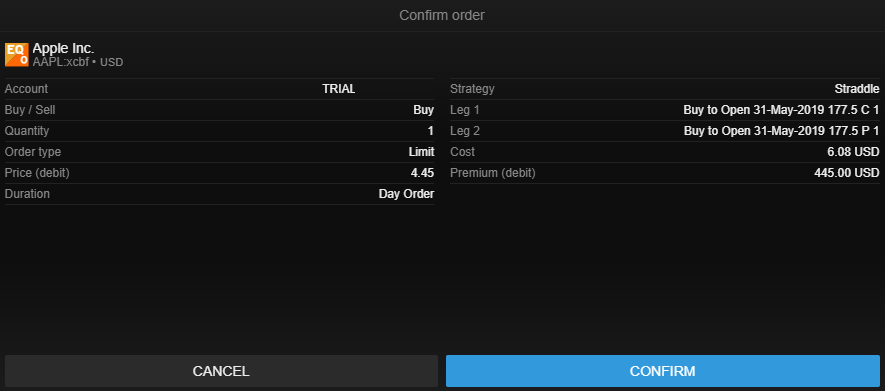 3. Pending orders are visible in the Orders module and can also be modified or cancelled. To view open positions, switch to Positions module.

Please visit our web page to read more about Equity Options Trading Strategies and Trading Conditions.