Saxo Bank employs a tiered margin methodology for Single-stock CFDs, ETF CFDs, Index CFDs, FX Spot, Forwards and FX Options.
With tiered margin, the margin requirement increases proportionally with the position size (Exposure) and is offered as a mechanism to manage market risk resulting from increased volatility and rapid changes in market conditions.
The exposure tiers are defined in brackets denominated in USD equivalent and can be found in the Trading Conditions section under the Instrument tab for a given instrument as seen below: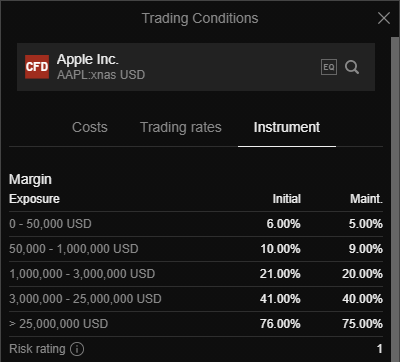 This margin methodology applies different margin requirements to different exposure tiers as opposed to applying a flat margin rate across all exposures. This means that a low margin requirement is applied for a small exposure and a higher requirement for larger exposures.
This ensures that the margin requirement scales up with the level of market risk associated with a position and takes volatility, liquidity and tail risks into account.
Blended margin requirement
With tiered margin, the average margin requirement, also known as the Blended Margin Requirement, increases with your level of market exposure in a given instrument.
This means that the effective maintenance margin required to hold a given position is the weighted average across the tiers of your overall exposure as illustrated below: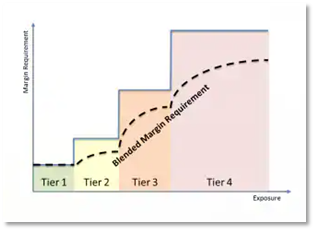 Below is an example of how to calculate your maintenance margin requirement for a $75,000 trade in Apple stocks:
($50,000 * 5%) + ($25,000 * 9%) = $4,750
The maintenance requirement impact is also shown directly on the Trade Ticket.